China raises $44 billion to bail out property developers, 500,000 pre-sale home buyers stop mortgage payments
---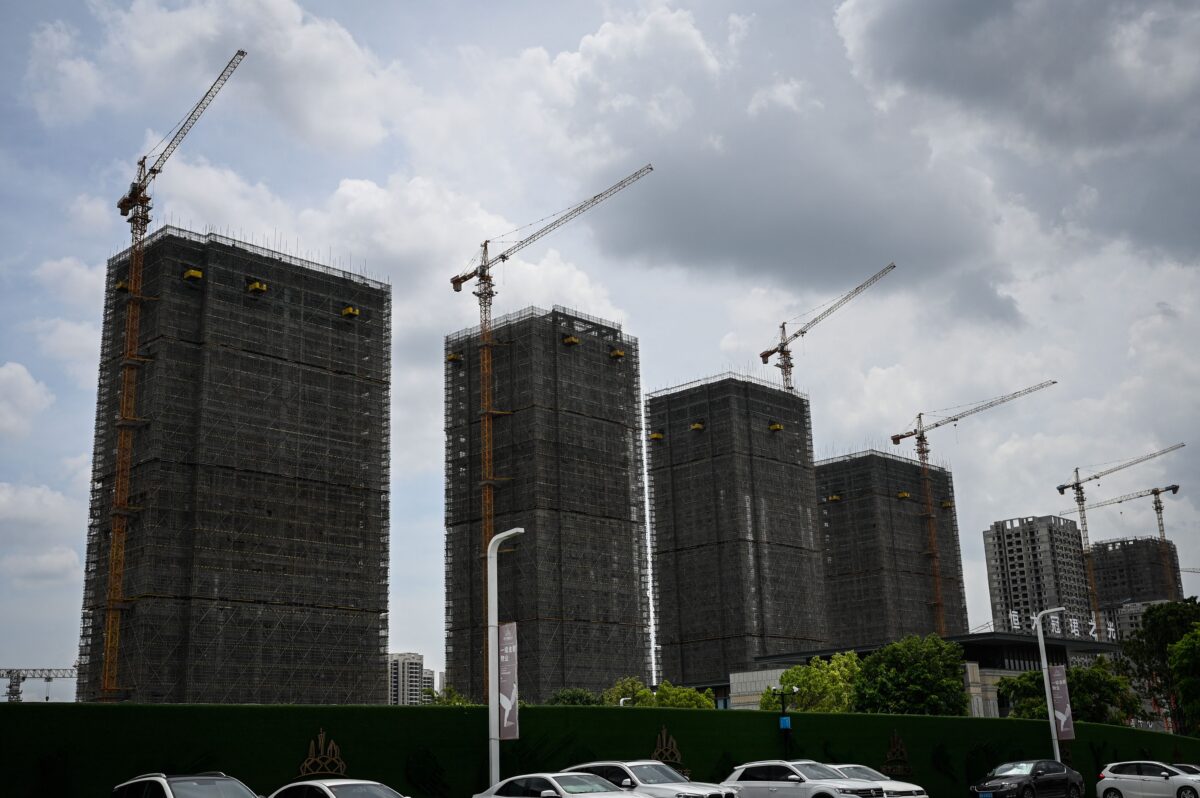 China plans to raise up to 300 billion yuan (about $44.4 billion) to support property developers struggling to complete their projects, while more than half a million buyers have stopped mortgage payments on their unfinished houses in July.
The fund is collected by China's State Council, the financial information platform REDD reported on July 26. 30 billion yuan (about $4.44 billion). The report does not indicate which organizations will pay the remainder.
However, the fund cannot even fill the loop created by "rotten tail buildings" or unfinished pre-sale homes.
The Chinese regime allows property developers to pre-sell apartments even when the buildings are just drawings. Buyers must pay the total price, which includes a deposit and a mortgage after signing the contract. The project becomes "rotten tail buildings" when the developer halted construction for 12 months.
On July 18, the state-run Shanghai E-House Real Estate Research Institute reported that there were about 900 billion yuan (about $133 billion) in mortgages tied to "rotten tail buildings." in China. Buyers began refusing to pay mortgages in July.
As of July 26, victims from 113 cities in 26 provinces listed 321 unfinished construction projects on GitHub. They uploaded photos and statements to verify the authenticity of the claims. E-House calculated that there are on average 1,701 apartments in a project, which means that around 550,000 buyers cannot move into the houses they have purchased.
E-House warned in its 2022 annual report that buyers of 3.85% of Chinese real estate projects may refuse to pay the mortgage because the pre-sale houses they bought are "rotten tail buildings", even if it means they will have a lowered social credit score. .
The social credit system is a method used by the Chinese regime to control people. The scheme does not allow someone with a low score to take public transport or allow their children to go to public school.
The state fund will not solve the problem: a banker
In addition to the $44.4 billion public fund, local plans in Jiangxi (eastern China), Hunan (central China), Yunan (southwest China), Shaanxi (northeast west) and southern Fujian provinces have also launched local funds to help real estate developers, Jieian News reported. 22nd of July.
However, economists and bankers do not believe that these funds can solve the problem.
"Unless the Chinese regime likes to spend all its money on the real estate market," said Cheng Xiaonong, a political and economics scholar with a Ph.D. in sociology from Princeton University, commented on July 24. Cheng didn't think the regime would spend its national treasure.
"One fund cannot solve the problem," Zheng Yi, a former Chinese investment banker, told The Epoch Times on July 21. "The problem of rotten buildings is an accumulated problem. It needs new policies and a large amount of funds to resolve.
Zheng said developers buy land from a local government, sell the apartments to individuals, bribe government officials and banks to move projects along smoothly, put the money in their own pockets, and then pay for construction.
Developers borrow from banks. At the same time, buyers obtain mortgages from banks. With loans and sales revenue, developers should have enough money to complete a project. However, they cannot complete the project if they do not calculate and control costs well. On the other hand, banks that provide loans and mortgages face great risks when the project remains unfinished.
To solve the problem, the government must use taxpayers' money.
"The government can only support a few developers it wants to help," Zheng said. "He doesn't have the ability to help everyone."
Zheng thinks there will be chain reactions. New buyers will only buy from developers who have received government funds. Other developers will go bankrupt faster, which means they won't be able to repay their loans or complete all the projects. Then the banks have nothing to seize and cannot collect loans and mortgages. Banks risk bankruptcy and can no longer lend to surviving developers.
"It is difficult to solve the problem," Zheng said. "I think the biggest problem in China's real estate industry is that consumers and investors don't have confidence in the market."
Market Confidence
The Chinese real estate market has been lacking buyers since the start of the pandemic. At the same time, more and more people are trying to sell their homes. To revitalize the market, the Chinese regime has launched policies to encourage or force people to buy homes.
Since June, at least nine Chinese cities have reportedly encouraged residents, including government workers, to "group buy" designated properties in a bid to boost local property sales.
On June 13, the regime of Huangdao district in Qingdao city publicly announced that any resident with enough savings in the bank should buy a new house, officials should talk to all residents who do not want to buy and to staff members in each community. in the district will be fined if community residents purchase fewer than two new homes in June.
Several municipal governments, including the city of Zhongshan, have issued a restraining order stating "that the interval between each adjustment of the sale price of a new residential building shall not be less than 3 months, and the decline shall not exceed 5%".
Struggling developers use many ways to promote their products.
In central China's Henan province, developers have offered to take wheat and garlic crops as down payment.
An ad from Central China Real Estate says buyers can use the crop, priced at 26.7 cents a pound, to offset up to $23,900 down payment at one of its developments.
In east China's Jiangsu Province, promoters offered to take peaches and watermelons as down payment.
However, these policies and promotions have had limited success.
China's National Bureau of Statistics released a report on July 15 indicating that total home sales fell 26.2% in the first half of the year, compared to 2021, and that total home sales in value decreased by 31.8%.
On the same day, the bureau also released June 70-city housing price index statistics showing that prices in 34 cities fell to a level lower than in June 2020. Six of them fell at the level of June 2017.
The sadness of buyers
The problem of so many unfinished buildings is too big to hide. The regime has not banned related social media posts. Even the official media reported the sadness of the victim buyers.
"I borrowed 500,000 yuan (about $74,000) from my relatives for the down payment, and I pay more than 6,000 yuan (about $890) for the mortgage every month," said Li Mingyu (pseudonym) , a 30-year-old Wuhan resident, told The Epoch Times. July 13. According to the contract, the developer promised Li it would be ready by the end of 2021 but halted construction altogether last September.
Li said her salary was not high and she thought her life would be totally ruined if she continued to pay the mortgage on an unfinished house.
Yang Yue (pseudonym) and her husband immigrated to Zhengzhou several years ago to operate a furniture business. They don't have local registered addresses that the regime uses to control where people go. To send her son to a school in the city, they must own a house.
"We bought the apartment in presale in 2020. The developer would give us the keys in 2023," Yang told The Epoch Times on July 23.
Yang and his fellow homebuyers discovered that the developer halted construction on the building last year and gave them no information on when they would resume the project. At the same time, it is becoming more and more difficult to sell furniture. "People have gotten poorer and the economy is in bad shape."
Faced with bills for her store's rent, current house rent, living expenses and her son's education, Yang said she regrets buying the house in presale.
State-owned Huashang newspaper reported in March that more than 300 buyers in Xi'an didn't have enough money to rent a finished house and moved into the unfinished presale apartments they bought in 2013 or 2014. unfinished residential buildings have no electricity, water, heating or bathrooms. And the walls and floors are just raw cement.
Yi Ru contributed to this report.