Long & Foster Affiliate Moves Team of Estate Agents to Willow Lawn
---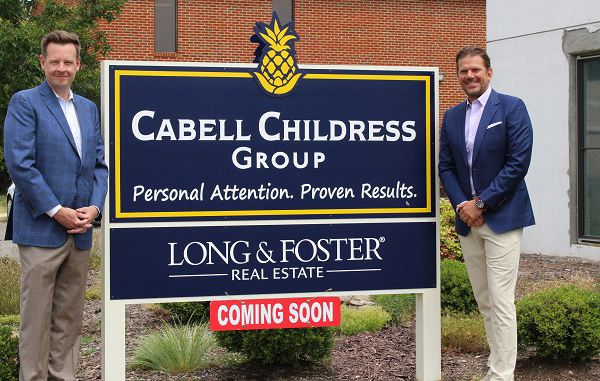 With increasing competition in the Richmond home sales scene, one of the area's largest residential real estate agencies is bolstering its local footprint with a new outpost in the Willow Lawn area.
Long & Foster Real Estate gets a new storefront with the opening of a physical office for Cabell Childress Group, a team of agents currently based at the brokerage's Innsbrook/Glen Allen branch.
The office, slated to open mid-June, is located at 4904 W. Clay St., a 3,800 square foot building adjacent to the West End Antiques Mall and Verve Home Furnishings, a few blocks from Broad Street of Willow Lawn.
Group leader Cabell Childress bought the building in March through an entity called Spider Properties Trust, which paid $580,000 for the quarter-acre property. The sellers were Craig and Linda Peyton, who bought it in 1995 for $235,000, according to Henrico County property records.
The county recently appraised the property at $375,900.
Childress, a native of Henrico who has been selling homes locally for 20 years, said he bought the building as a property investment as well as a home for his band, which he formed in the late 2000s.
"It was an opportunity for me to own the building, and it made sense from an investment perspective," Childress said. "Obviously during COVID it's been very unique where a lot of people aren't even using bricks and mortar. Our team is like a little family so we like the idea of ​​having our own space.
The office will carry signs for Long & Foster and Cabell Childress Group. It will be managed by David Gragnani, broker manager Long & Foster of the Innsbrook/Glen Allen branch.
The Willow Lawn spot brings the number of Long & Foster offices in the Richmond metro to 17. Its closest outposts are in the Libbie-Grove area.
"It's a promising market for us," said Brian Haug, senior vice president who oversees Long & Foster's operations in the region.
"It's a next step for him in growing his team," Haug said of Childress, noting that his team passed the $100 million mark in annual sales last year. "It's a way for agents to have their own individual space but also still be under our umbrella."
Childress said her team consisted of eight agents when she closed 2020 with 250 closings totaling $101 million in sales. The team now has 10 agents and three support staff, with sales so far this year reaching $65 million.
"We're having the best year we've ever had," Childress said.
The group's new home includes a 1,100 square foot warehouse/flex space that Childress said he will convert into a lounge and social space for agents and clients. The building will also house an office for Long & Foster subsidiary Prosperity Home Mortgage, and Childress said other agents at the brokerage will be able to work from the space.
He said the building gave his team room to grow and was attractive for its location near Willow Lawn and Libbie Mill-Midtown. The area has also attracted interest from other brokerages, as a competitor new to the market – Chantilly-based brokerage firm Sampson Properties – recently opened an outpost at Libbie Mill.
The location is the latest addition to Long & Foster's footprint in recent years. In 2019 it added two satellite offices, including one at Chesdin Landing in Chesterfield County.