Real estate investors hit the wall of capital
---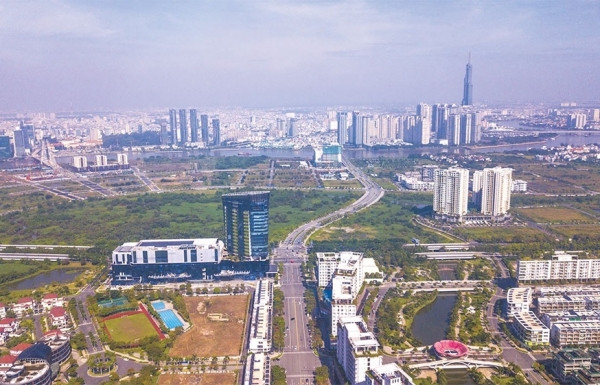 Nguyen Hung, director of a private real estate developer, said that in the past five months his turnover had been almost zero. This has caused the construction-related activities to stop and he cannot pay the salaries. The bank does not provide loans and the products remain unsold, which adds to the misery of the company.
"Currently, I have to pay more than 30 billion VND ($1.3 million) for office rental and salaries per month, but we have no more money in our pockets," Hung told VIR. .
To obtain capital, the only way now for companies is to raise capital from foreign investment funds such as Japan, Thailand or Singapore. However, this is not easy as it often takes up to two years to complete a transaction.
"Foreign investment funds also only pour money into specific projects and benefit from it, but do not invest in just any companies. They only participate in projects with good earnings and have the potential to raise prices," Hung said.
"By the end of October, we hope that the company will complete the contract with a foreign investment fund with which we have been working for almost a year. If not, we have to wait a few more weeks to hope that the government makes more room for Survival Credit.
An executive from another major real estate group in Long An province in the Mekong Delta said the company had in the past bought up troubled projects to develop. To have money to buy projects, this company must borrow capital from banks. However, the current period is difficult for any bank loan, and its current solution is to suspend all projects and wait for new monetary policy signals.
"Currently, not only is credit getting tight, but administrative, political and legal procedures are also frozen due to reviews by relevant agencies for all projects. Businesses are struggling to survive," he said.
Multiple difficulties
Independent real estate expert Ho Huu Khanh said the real estate market has never been tougher than it is today.
"Ten years ago, when the market was frozen, there was no cash, but the bank was still making loans and customers still had money to pay for previously signed contracts. Now the market is s 'is again frozen, the bank has tightened its capital and the administrative procedures are long, which further aggravates the difficulties of the companies,' said Khanh.
A solution to get a loan from an international financial institution and partners is doable, but it takes time and there are many conditions, Khanh added.
If, over the past few years, bonds have been an effective channel for raising capital for companies, then in the first seven months of 2022, real estate companies issued only 45 trillion VND (1.96 billion dollars) of bonds, a sharp drop from previous years.
The worrying downturn in the real estate corporate bond market has caused many projects to stop and many companies to be unable to pay their bond arrears.
The real estate market plays an important role in the economy. In 2021, it contributed 3.58% of GDP and construction 5.95%. In the first six months of 2022, it contributed 3.32% of GDP and construction 5.44%.
Dr. Can Van Luc, a member of the National Fiscal and Monetary Policy Advisory Council, said attracting capital to the real estate market was important as it involved about 35 different areas and industries.
However, statistics from listed real estate companies show that the number of inventory days is skyrocketing to an alarming level. The average number of days of inventory has almost reached 1,500, which means that it takes more than four years to sell off inventory. This number has increased sharply compared to the end of 2021 and has approximately doubled compared to the 2019-2020 period.
Luc said the recent phenomenon of sluggish corporate capital was painful, with oversupply, excess resources and lack of capital.
"Currently about 30-40% of real estate and construction companies have mutual loans of about $2.6 billion. Previously they extended it to 45 days, but now it's 90 days. As a result, cash flow slows down, which is a challenge for construction and real estate companies," said Luc.
Fight for cash
Faced with a strong thirst for capital as credit floodgates and bond issuance activity tightened, many real estate businesses had to find new channels to raise capital to maintain cash flow.
In June 2022, Novaland announced a $250 million investment from a group of investment funds led by Warburg Pincus. This should be allocated to increase land reserves and the development of projects in strategic locations, taking advantage of the gradual improvement of infrastructure in the southern region.
Similarly, also in June, Hung Thinh Land Corporation has just received a $103 million equity investment from Dragon Capital and VinaCapital.
The transaction brings Hung Thinh Land to the international capital market for the first time, creating a favorable foundation to support the implementation of the strategy and sustainable growth plan.
In June, the International Finance Corporation signed up to buy bonds worth a total of about $44 million from Nam Long Investment JSC.
Meanwhile, Dien Phuc Thanh House and Construction Company, the investor in the MT Eastmark City project, has announced a package for those who want to own a house with finances below VND 1 billion ($43,500).
With an initial capital of around 30% of the value of the apartment, clients can receive the house, and the remaining 70% receive loans from the bank and are disbursed according to the progress of the project. The main difference is that the investor bears all interest rates and a grace period of up to 30 months.
Similarly, to stimulate demand in the Bcons City and Bcons Plaza projects, their investor Bcons Group applies an interest rate subsidy and a principal debt grace period during the construction of the project.
At Phu Dong Sky Garden Project, Phu Dong Real Estate JSC offers a flexible payment policy to help clients get their home soon. If customers have enough financing to purchase the unit without a loan, they will receive a discount of 5-10% of the total value.
In addition, group purchases of real estate products are increasingly popular to mobilize capital flows from individuals who have few investments available for real estate.
Investors in certain real estate products may divide the value of that property into several parts. Each investor can contribute capital ranging from hundreds to thousands of dollars. Capital contributors will receive on request investment certificates which can be kept until maturity to recover their capital and interest at the profit rate initially incurred. Investors can also transfer their certificates to other investors.
Source: VIR